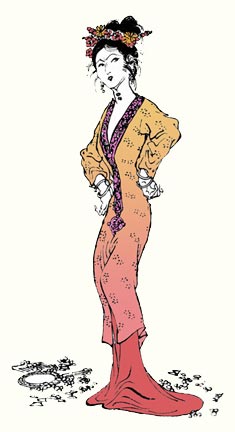 A man can be as delicate as a woman, and a woman can be as hearty as a man. [What's your body type?]
The slightly delicate body type has more delicate attributes than hearty, but a few hearty all the same.
Delicate attributes include being sensitive to weather changes, drafts, and having somewhat "thin skin" in both emotional and physical terms. However, the slightly delicate body type is less sensitive than the purely decliate person.
Slightly delicate can benefit from formulas for both long-term low-grade conditions as well as short-lived intense issues.
Formulas for acute problems (short-lived but intense) are best taken with a higher dosage. A high dosage depends on how much you weigh, but a typical high dosage would be something like 6 capsules or a teaspoon of the powder, 4 times daily.
For chronic problems (long-term, low-grade) that have been around for a while, don't expect the herbs to work overnight. However, with a slow, low dosage, you can see improvement. A typical low dosage is 1-2 capsules or 1/2 teaspoon of the extract powder, 3 times daily.
For more on how long it may take for your herbs to work, please see the prognosis self-test.