This is a product made by Zi Zai Dermatology Skincare Products in Colorado.
A little should go a long way.
ECZEHERBAL™ P HAND & FOOT CREAM 4OZ
Anti-itch cream for hands and feet that suffer from pompholyx eczema. Pompholyx is a type of eczema that affects hand and feet with a distinct cycle: the formation of itchy vesicles (tiny blisters), re-absorption of those vesicles followed by desquamation (peeling skin), then a return to normal skin before the cycle begins again. This gentle emollient has 1% colloidal oatmeal to quickly subdue itching. Soothing aloe vera gel, softening shea butter and anti-inflammatory Chinese herbs combine to calm eczema with daily use. For external use only.*
How to Use: Apply as often as needed daily.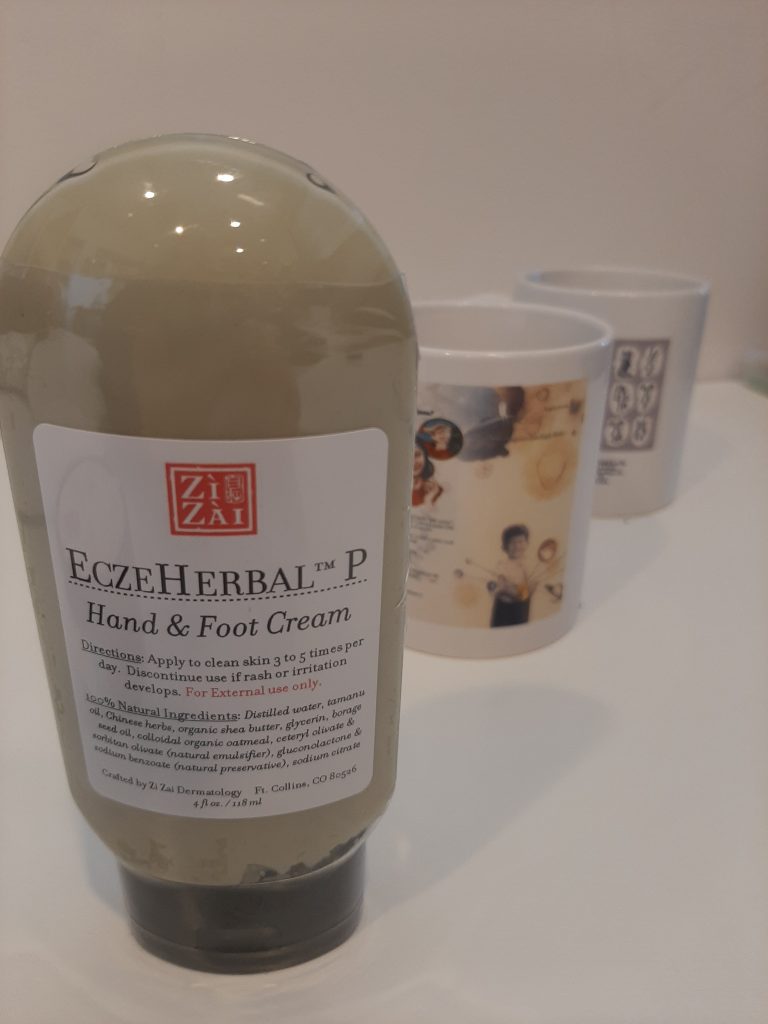 100% Natural Ingredients:
Distilled water
Aloe vera gel
Tamanu oil (Caulophyllum inophyllum – a nut oil)
Certified fair trade organic cocoa butter
Certified fair trade organic shea butter
Chinese herbs (Wang Bu Liu Xing, Cang Er Zi, Ku Shen, Zi Hua Di Ding, Di Fu Zi, She Chuang Zi, Ming Fan)
Cetearyl olivate and Sorbitan olivate (natural emulsifier derived from olive oil)
Organic oats
Vegetable glycerin
Gluconolactone and Sodium benzoate (natural preservative derived from non-GMO corn)
Sodium citrate