Here at EagleHerbs.com, our goal is to provide you a means by which you can get the right formula for yourself.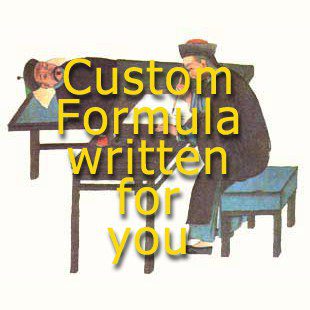 Still, there are many times in which the experienced know-how of a seasoned clinician, Marie Yuan, can not only get you the right formula, but modify it to fit your very exacting needs.
This is especially important if you have a long list of problems. Sometimes they can all be connected to one underlying imbalance, but many times a more comprehensive and balanced custom-blended formula needs to be created for your particular situation.
In other cases, when you have an acute attack (really potent, but short-lived symptoms) you can take one formula, but to prevent it from returning, you would take a different formula. This kind of management is part of the service that comes with the custom-blended herbal formulas from EagleHerbs.com
The cost includes the first batch's worth of herbs (200 grams) in a customized formula, plus shipping.
If you would like the herbs in powders, that's a little bit less expensive than putting that same powder into capsules. I think that they work better in the extract powders, though some find the taste challenging.