---
Welcome to Eagleherbs.com where we sell Chinese herbal supplements. We use only safe and clean herbal granules (powder).
---
If you would like to re-order a previously ordered custom formula then you can order here. 
---
Our herbs are safe and effective because our Chinese herbs are mixed in combinations to create "formulas". Many of these formulas have been helping people for over 2000 years. 
We make each formula for you individually. This allows us to offer a wide range of formulas as well as customize your formula. For this reason (and general safety and legal issues) we cannot offer refunds on formulas.
Shipments to addresses outside of the United States and Canada are NOT guaranteed for delivery and the buyer accepts responsibility for all costs.
---
Choosing the right formula. Let Us Help You choose the Right Formula – you have a number of tools. Click above. 
---
---
Information about safety and shipping etc…
---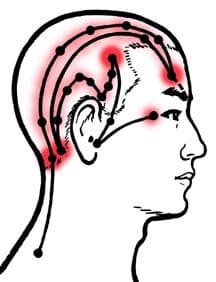 ---
Eagle Herbs provides a telephone consultation service for those who have no Chinese medicine practitioners in their area. Marie Yuan has been doing our consultations for several years. Consultations consist of a 15-45 minute telephone or Skype conversations and include up to 4 follow-up emails. That's why we sincerely believe a consultation can really be the best way and ultimately cheapest way to find the correct formula if you are going to order on-line.
---
Our little contribution to Weight Loss on the internet.
---
Why take herbs?   
Why take Herbs? An essay about herbs and how we use them.
---
Contact us at Service@eagleherbs.com or 310-4OO-O392
---
---
When you choose the right formula you can order at the bottom of the page. We use Paypal and you can use your credit card too through Paypal.
When we get your order, we make the herbs into either granules or capsules. It may take from one to three days for us to make the herbs. We then mail them to you. We use the United States Priority Post Office Service.
If you have questions you can email service@eagleherbs.com. If you have a complicated problem, we may suggest that you have a consultation with one our licensed herbalists.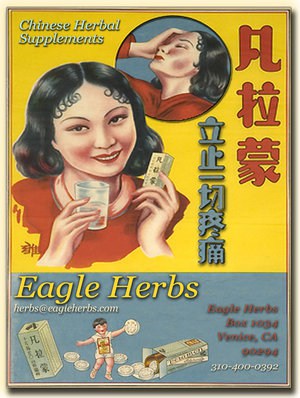 It is best to visit a Chinese herbalist. But we know that many people cannot get Chinese herbs where they live. That is why we created Eagle Herbs. 
Obviously, if you have a serious condition we strongly suggest you contact a western physician.
You can buy either granules of herbs or capsules. The granules can be put in water or juice, eaten, sprinkled on rice krispies or anyway you want take them. Often times they do not taste good and you may prefer capsules (but they are more expensive). You will be taking 1/2 to 3 teaspoons of granules twice a day. Take 1-6 capsules twice a day. The capsules are pretty small.
Our products, as required by the FDA, are described here but are not intended to diagnose, treat, cure, or prevent any disease.